Info MX is the number onesystem information, inventory, audit & diagnostic utility. It providesall the information you could ever need to know about your hardware, softwareand other devices.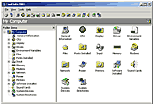 Including: CPUs, modems, BIOS, drives, graphic cards,drivers, files, fonts, network, internet, printers, software, multimedia and DOSand Windows memory.

The previous award winning version Info MX sold and developed originally by Creation Info Corp is used by Fortune 500 companies, personal users, governments and small businesses worldwide for their audit and system
information needs.

Along with an easy to use graphical user interface, Info MX allows for easy exporting to database and many other formats. Multiple Info MXclients can use the same central database to allow for a constant network inventory of
the computers connected to that network. Users love it for the simplicity, Technicians love it for diagnostics, Accountants love it for its detail, Network Administrators love it for the automation, CEO's love it for the price.